Kmart Pays $1.4M to Settle False Claims Allegations
By Renee Dustman
Sep 3rd, 2015
0 Comments
176 Views
True or False: It is permissible for providers to offer their Medicare/Medicaid patients drug manufacturer coupons for brand name drugs.
The answer is: False. Such inducements may cause beneficiaries to seek expensive, brand name drugs in lieu of cheaper generic drugs, which causes the government's costs to increase without any medical benefit to the beneficiaries.
Kmart found this out the hard way. The discount department store chain just agreed to pay the United States $1.4 million to resolve allegations that it violated the False Claims Act.
In this whistleblower case, according to a September 1 Department of Justice (DOJ) press release, Kmart allegedly used drug manufacturer coupons and gasoline discounts to induce Medicare beneficiaries into doing business with their in-store pharmacies. The government also alleged that Kmart improperly encouraged Medicare beneficiaries to bring their prescriptions to Kmart pharmacies by offering them varying levels of discounts on gasoline at participating gas stations, based on the number of prescriptions they filled at Kmart pharmacies.
"Federal law prohibits a person from offering beneficiaries of certain federal health programs, such as Medicare, remuneration that is intended to influence the beneficiary's choice of provider," according to the DOJ.
Read the DOJ press release for complete details.
SEP – Message from the AAPCCA Chair
By Jennifer Robison
Sep 2nd, 2015
0 Comments
195 Views
Officer News – A combined effort
Welcome to the first combined issue of the AAPC Chapter Association News and the AAPC Local Chapter Department News. We are hoping that by combining our announcements, deadlines, and other useful information, you will save time by only having one email from both of us. Joining forces seemed like a great idea for us and we hope you like it, so please let us know what you think.
We each have varied interests and hobbies. My guilty pleasure is home improvement shows on TV. I enjoy seeing what people can do to improve their homes and their lives while they remodel their spaces. Maybe that's why I like working with chapters so much. There is always something we can do together as members and officers to make our chapters better. Sometimes it's simple paint job and other times it's a complete tear-down. You have to decide what you need.
September is the perfect time to start thinking about improving AAPC local chapters, as we enter the time for chapter elections. I hope that your chapter members will recognize we need them and their fresh ideas to keep the educational programs we present entertaining and filled with quality information. Keep this in mind while you are searching for candidates. Not everyone has the same style; they may be antique, mid-century modern, rustic, or sophisticated, but when you bring together a new corps of officers there is much they can accomplish in an eclectic team. Get in there and build something you can be proud of!
Barbara Fontaine, CPC
AAPC Chapter Association Chair
SEP – What's Happening at AAPC
By Jennifer Robison
Sep 2nd, 2015
0 Comments
189 Views
Urgent Help Needed!
With the implementation of ICD-10 in October, there are more examinees than ever before. Additionally, the end of the year is quickly approaching, and the number of examinees always increases during this time. In some states, all test sites are already completely full. As you might expect, members are clamoring to get into the sites. Chapter officers can help accommodate the needs of these examinees by raising the seating limits of fourth quarter exams as much as possible. Try scheduling additional dates if the exam venue doesn't allow for growth. AAPC's goal is to accommodate as many examinees as possible.
Applications for Chapter Association Board of Directors Available Soon
Now is the time to consider serving AAPC on the national level. We are always seeking chapter officers who want to be more involved with members in their region and with the AAPC staff. Five positions on the AAPCCA's Board of Directors will be vacated in spring of 2016 and replacements will be needed. Watch for information to come. In the meantime, consider speaking with the AAPCCA representative in your region about their role!
Surveying our Members
We are preparing surveys for our officers and members to analyze their needs relative to local chapter service and attendance. The surveys will be randomly sent to one chapter in each state. Please watch for these and take the time to respond.
2nd Quarter 2015 Reimbursement Paid
Check to ensure your reimbursement was received into your checking account around August 20th. Please contact us if there are any discrepancies or if there is a change in the bank account number.
SEP – Statistics
By Jennifer Robison
Sep 2nd, 2015
0 Comments
190 Views
Top Attendance in 2nd Q 2015
Congratulations to these top ten chapters for having the most attendees in the second quarter.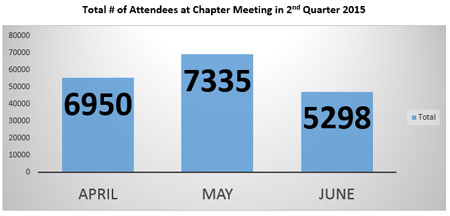 SEP – Reminders
By Jennifer Robison
Sep 2nd, 2015
0 Comments
192 Views
Communication Between Chapter Officers is Critical
We urge chapter officers to meet regularly to discuss the activity of the chapter. Below are several important points to discuss as chapter leadership.
Submitting Requests for CEUs
Assign a chapter officer to submit requests for CEUs. This will prevent duplicate submissions and streamline the process. We realize CEU approval for meetings is taking longer than usual. Officers are often anxious to ensure the request has been received. If you have submitted a CEU request and have not received a confirmation, verify the submission with AAPC. Verification should be attempted before resubmitting a request. Often times a well-meaning officer assumes another officer has not submitted a request or thinks the request did not go through. Submitting duplicate requests creates additional work for the CEU Vendor team reviewing the information.
Preparation to Host Exams
Chapter officers should discuss upcoming exam dates, scheduling of proctors, and review the proctor instructions. Officers serving as first proctors should be aware that when the exam package arrives, they should immediately review the package contents, ensuring the information is correct. This will allow adequate time to resolve any issues with AAPC should any arise. Officers occasionally wait until they arrive at the exam to open the packages where they may be unable to resolve the issues.
Elections are Around the Bend
Now is the time to think about October elections. Be sure to remind your chapter members that nominations for 2016 officers are being taken. Additionally, notify all members of elections 30 days in advance. As officers, discuss the list of chapter members you've noticed who actively participate or those you've groomed to lead your local chapter. Now is the time to confirm their desire to be nominated. Hosting of elections is under the direction of the vice president, but when officers join hands and work together, events are more successful.
Earn .5 CEU for Reading this Officer News
Thank you for reading this important chapter officer information. Now take this quiz and earn half a CEU (0.5). Stay on top of all AAPC updates for officers by visiting the Local Chapter Officer News page often. One new quiz offered each month!